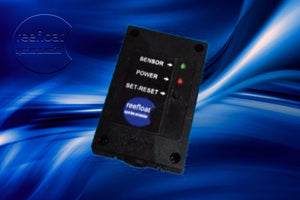 This is solely the controller and does not include infrared sensor, power supply or other accessories.
unsuitable to replace float type atu pro2
Upgraded ATU Pro2 to ATU Pro3.....
Many thanks to Gordon for all his help in this matter as I cannot commend him enough
Basically my ATU Pro2 (One of the first ones ever produced with the black IR sensor) finally gave up the ghost after more than 7 years faithful service in a humid environment.
Took around 5 minutes to swap everything over, including soldering a new female connector to the pump feed wires.
I had already desinged and printed off an adapter in PETG to take the newer IR Sensor 2 which Gordon also supplied free of charge. I didn't really fancy making the hole larger in the original ATU Pro2 mount as acryllic can be quite brittle when it comes to being drilled so it was easier to make the adaptor.
I may also upgrade it to the newer ATU Pro4 once the newer sensors are back in stock.
Once again a BIG thank you to Gordon for all his help as not many companies go the extra distance that he does!
Great to be able to access spares
The replacement controller works perfectly.The Orginal system worked well for several years
It only stopped working after years of salt creep building up due to me positioning it in a vulnerable spot.Will care for new controller better
It fixed my waterlogged box
So, my 6 month wait for tank comes.
second hand tank springs a leak all over my new atu :(
fried control board so ordered this. easy to wire up and run and secure cables.
really like Gordon's products and that you can service them yourself if an issue should arise.